------ Forwarded message -----
From:
Max at Greenpeace Australia Pacific
<actau@mail.greenpeace.org>
Date: Mon, Feb 24, 2020, 8:28 PM
Subject: BREAKING: Equinor quits the Bight! 🐋
To:
Liz: We just did it! Norwegian oil giant Equinor has ditched its outrageous plans to drill for oil in the Great Australian Bight! 💥🐋 [1]
Let's not underplay this: it's a HUGE win...
For the First Nations people who have called this area home for more than 60,000 years. For the tight-knit coastal communities whose way of life had been at risk. For the unique and magical marine life threatened like never before. For the fishing and tourism industries who depend on a clean and healthy Bight.
And for the hundreds of thousands of people like you, who stood with them, and spoke up. You made this happen.
Together, we can achieve the impossible. We've taken on the biggest fossil fuel companies, and we've won. But we need your support to keep going.
Liz, will you chip in to power this incredible movement, and make sure that we can keep fighting to permanently protect the Bight, and to take on the fossil fuel industry?
Congratulations, Liz!
This is extraordinary. I don't know about you, but I'm buzzing, my heart is racing and I can't wipe the grin off my face.
This is a momentous win for the Bight, for South Australia and for all our friends in this amazing movement of people. This is what we can do when we band together.
For years now, it has been the people vs oil. And the people have just won, again. Faced with aggressive deepwater oil drilling threatening one of the world's most unique marine ecosystems, surrounded by majestic whales and baby seals, we knew Australians wouldn't stand for it. And we didn't.
Our movement stepped up. And when the setbacks came, we didn't stop. We built the kind of relentless community pressure that no major corporation, or their investors, could ignore.
The battle to protect the Bight permanently is not won yet, Liz. The only way to do that is to secure a permanent moratorium on drilling. If we can do that, we can safeguard coastal communities and the Bight's unique marine life for good and keep an estimated 817 million tonnes of carbon in the ground [2],
We'll keep fighting until that's a reality. But this victory is a huge step forward, and a message to any other greedy oil giants foolish enough to try and drill the Bight that they will face fierce opposition.
Liz, with your support we can lock in permanent protection for the Bight, and keep fighting, and winning, these pivotal battles against the fossil fuel industry.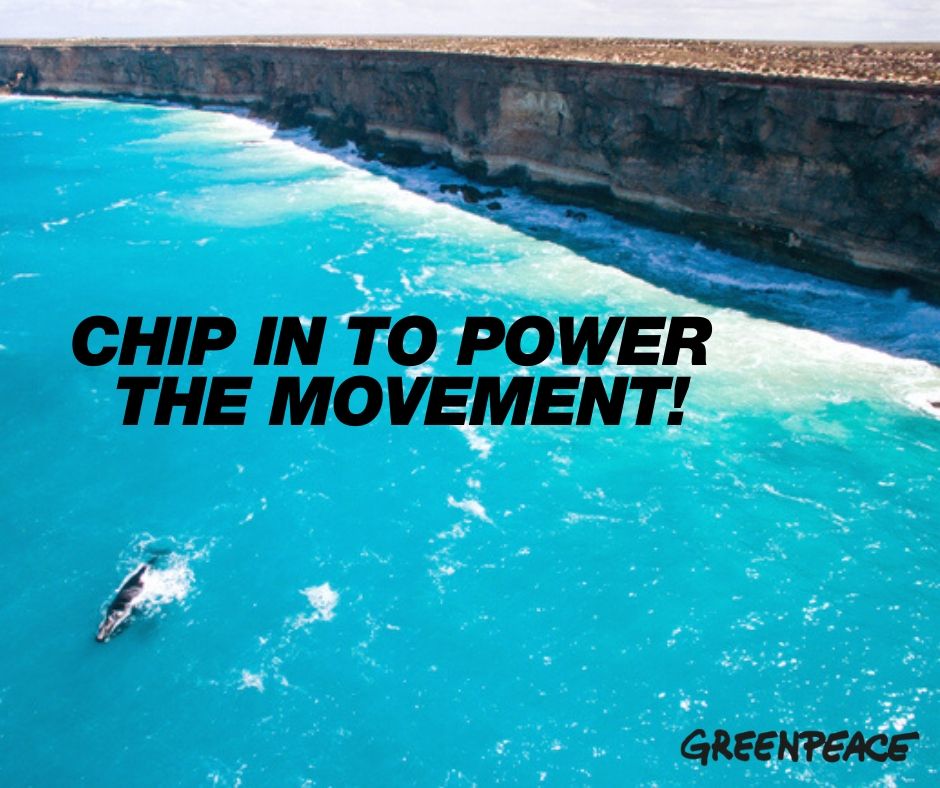 We've been a thorn in the side of the oil industry and the reckless plans to drill the Bight for years now. First we sent BP packing. Then Chevron and Karoon. And now Equinor has become the latest major company to see the writing on the wall in the face of unwavering local resistance.
We know that oil drilling in the Bight would be disastrous. A spill could hit anywhere from Western Australia to Tasmania, devastating marine life and local people. And that's why we won't stop until a permanent moratorium on oil drilling in this incredible place has been declared.
We also know that Big Oil isn't about to stop. Driven by greed and desperation, they'll continue to try and wring the last drops out of this dying industry. But we have them on the run. From the Arctic to the Bight, the tide is turning.
In the space of just a few days, three major frontier fossil fuel projects have collapsed. First, OMV hit the brakes in New Zealand's Great South Basin. [3] Then just yesterday the plug was pulled on a huge oilsands mine in Canada, with concerns over climate change proving pivotal. [4] And today, the news from the Bight has completed a wonderful hat trick! The end of the fossil fuel age is coming.
The momentum is with us. Let's keep it going!
Liz, we're completely independent, which means we rely on the generosity of people like you to power huge wins for the environment like today's. We've also shown that together, we can do anything.
Thank you again for speaking out, and for standing alongside everyone fighting for the Bight! You're part of something truly special today.
For a cleaner, more just future.
Max, Nat, Ella, Sam, Jack, Breana and all the team at Greenpeace Australia Pacific
P.S. As the news rippled around our office in Sydney this morning we felt energised. Days like this don't come that often. They re-charge us, keep us going. And remind us of our immense power. Enjoy it! High five a friend, drink it in, and just feel good. And share it on Facebook and Twitter!
P.P.S. This has been an enormous win fought over many many years, and has taken so many of us. This list doesn't capture everyone, but here are just a few specific extra thank yous:
Aunty Sue Haseldine, Uncle Bunna Lawrie Kokotha and Mirning Elders

The people of Ceduna, Kangaroo Island, Port Lincoln and the 23 local councils that publicly opposed drilling

The fishing communities of South Australia

The Great Australian Bight Alliance

The Wilderness Society





❤️
Greenpeace Australia Pacific
GPO Box 2622
Sydney, NSW, 2001
Authorised by D. Rowe Greenpeace Australia Pacific, Sydney.