----- Forwarded message ----
From:
David - WeMove Europe
<info@wemove.eu>
Date: Wed, May 11, 2022 at 5:54 AM
Subject: Your messages worked!
To:
We're one step closer to a future that protects our oceans and marine life. And this community played its part.

Last week, we sent thousands of messages to our European Members of Parliament (MEPs) to vote to prohibit destructive fishing. At the same time our partners Oceana Europe, Our Fish, Seas at Risk and others put door hangers on MEPs' doors to remind them of our message. [1]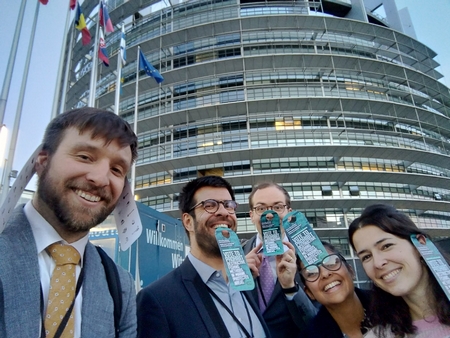 Activists in Strasbourg ready to enter Parliament before the vote to place the door hangers on MEPs' doors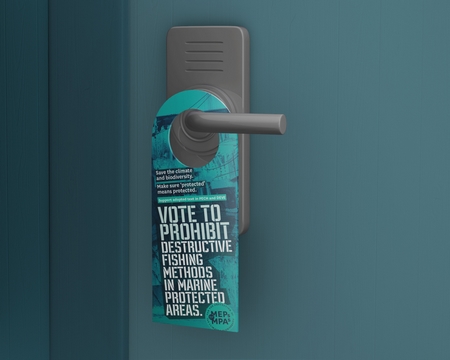 Door hanger placed on doors of our MEPs in Strasbourg
And they listened to us!
MEPs called on the EU to prohibit the use of giant nets that kill dolphins, seals, corals, seahorses and hundreds of other marine species in our protected areas – a practice known as bottom-trawling. [2]
Our voice was stronger than that of the industrial fisheries, but it was a close call! French MEPs supporting Macron almost sabotaged the vote. [3] But thanks to Green MEPs, we ultimately won!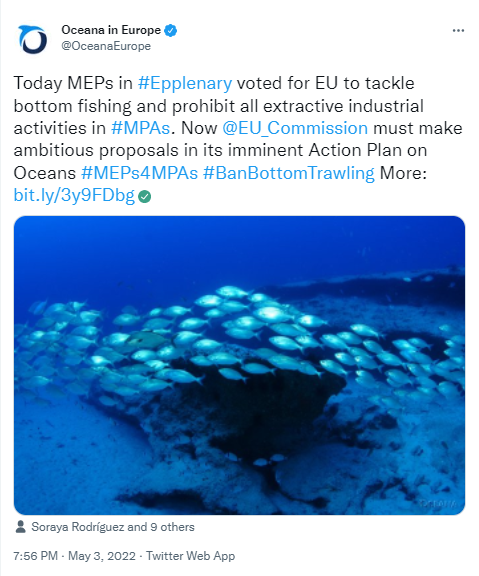 This result comes at the perfect time! The Commission is currently writing the Oceans Action Plan which will set the rules for how we protect and restore our oceans for years to come. [4] The Parliament's position will pressure the Commission to write a strong Oceans Action Plan.
Last year, this community sprung into action to push the Commission (and in particular the Oceans Commissioner Virginijus Sinkevičius) to do exactly this.
In the summer, with big wave surfing champion Maya Gabeira, we dove into the Mediterranean together to deliver our message at one of the year's biggest climate conferences. And in winter we chipped in together to fund a pop-up book that captures the story of how EU leaders could write a better story for our oceans.
Now, the Oceans Commissioner faces added pressure from the majority of the European Parliament.
With more than 150,000 Europeans and Parliament on side, we expect the Commission to include a ban on bottom-trawling in the upcoming Oceans Action Plan.
We'll be sure to keep you up to date. And hope to share the good news that we've stopped destructive fishing.
Fighting to protect our oceans,
David (London), Giulio (Rome) and the entire WeMove team
References:
[1] https://twitter.com/wemoveEU/status/1521157731608051712
[2] https://europe.oceana.org/en/press-center/press-releases/european-parliament-calls-action-bottom-fishing-and-true-protection-0
[3] The outcome is what we wanted but we got there through a complicated set of amendments. French MEPs removed a specific reference to bottom trawling in one amendment, they called on the EU to prohibit extractive industrial activities - which includes fishing practices like bottom trawling - in marine protected areas. Then, Green MEPs went even further than the proposal rejected by the French with another amendment calling on the EU to limit the use of detrimental fishing techniques, including bottom trawling, outside marine protected areas. This was passed.
https://europe.oceana.org/en/press-center/press-releases/european-parliament-calls-action-bottom-fishing-and-true-protection-0
https://www.europarl.europa.eu/doceo/document/A-9-2022-0089-AM-001-003_EN.pdf (amendments 1-3 added by Green MEPs that were passed)
https://www.europarl.europa.eu/doceo/document/A-9-2022-0089-AM-004-004_EN.pdf (amendment 4 that was changed by French Renew MEPs)
[4] In 2020 the EU released its Biodiversity Strategy for the next ten years. The strategy includes a commitment to halting the biodiversity crisis and commits to developing an 'Action Plan to Conserve Fisheries Resources and Protect Marine Ecosystems', which we're calling the Ocean Action Plan for short.
The Ocean Action Plan should limit the most destructive fishing gear and create a plan for how to transition to low-impact fishing. It has enormous potential to restore ocean health, but the details are so important.
WeMove Europe is a community of people from all walks of life, who call Europe our home,
no matter where we were born, where we live or who we love. In the name of a brighter future for people and the planet,
we come together to sign petitions, send letters and protest on the streets to make our voices heard.
Our power comes from each other. And it's thanks to small monthly donations, fivers and tenners, that we can keep going.
please help keep WeMove Europe strong by chipping in.
WeMove Europe SCE mbH | Planufer 91 Berlin | www.wemove.eu | Privacy policy |